What is a rustic wedding? Picture a romantic rendezvous amidst the charm of nature's embrace, where elegance meets simplicity, and love blooms in the heart of the great outdoors.
A rustic wedding is an enchanting celebration that pays homage to the allure of the countryside, blending the rugged beauty of the wilderness with the tender touch of human emotion.
It's a magical affair that whispers tales of history, beckoning us to a bygone era, where weathered barns and dappled sunlight form the backdrop for a love story that unfolds like a timeless masterpiece.
So, what is a rustic wedding? It's a symphony of earthy tones, a dance of burlap and lace, and a chorus of twinkling fairy lights under the stars.
Join us on a journey to explore the essence of rustic weddings, where each moment is painted with rustic charm, and every memory is etched with the indelible ink of rustic romance.
What Is A Rustic Wedding? (Ultimate Guide For Couples)
In the ever-evolving landscape of wedding trends, one timeless and captivating theme that continues to steal the hearts of couples is the rustic wedding.
A rustic wedding is not merely a style; it is an enchanting journey back to the roots, a celebration that embraces the warmth and authenticity of nature's beauty.
It is a magical escape from the hustle and bustle of modern life, where couples can immerse themselves in the serenity of rural landscapes and bask in the simplicity of life's most cherished moments.
But what is a rustic wedding, truly? At its core, a rustic wedding is a fusion of rustic charm, organic elegance, and heartfelt romance.
It embodies the art of blending rustic elements, such as weathered wood, mason jars, burlap, and wildflowers, with refined touches that create an atmosphere of sophistication amidst the simplicity.
It effortlessly marries the ruggedness of the outdoors with the tender touches of love and warmth that make every guest feel like a part of the couple's intimate journey.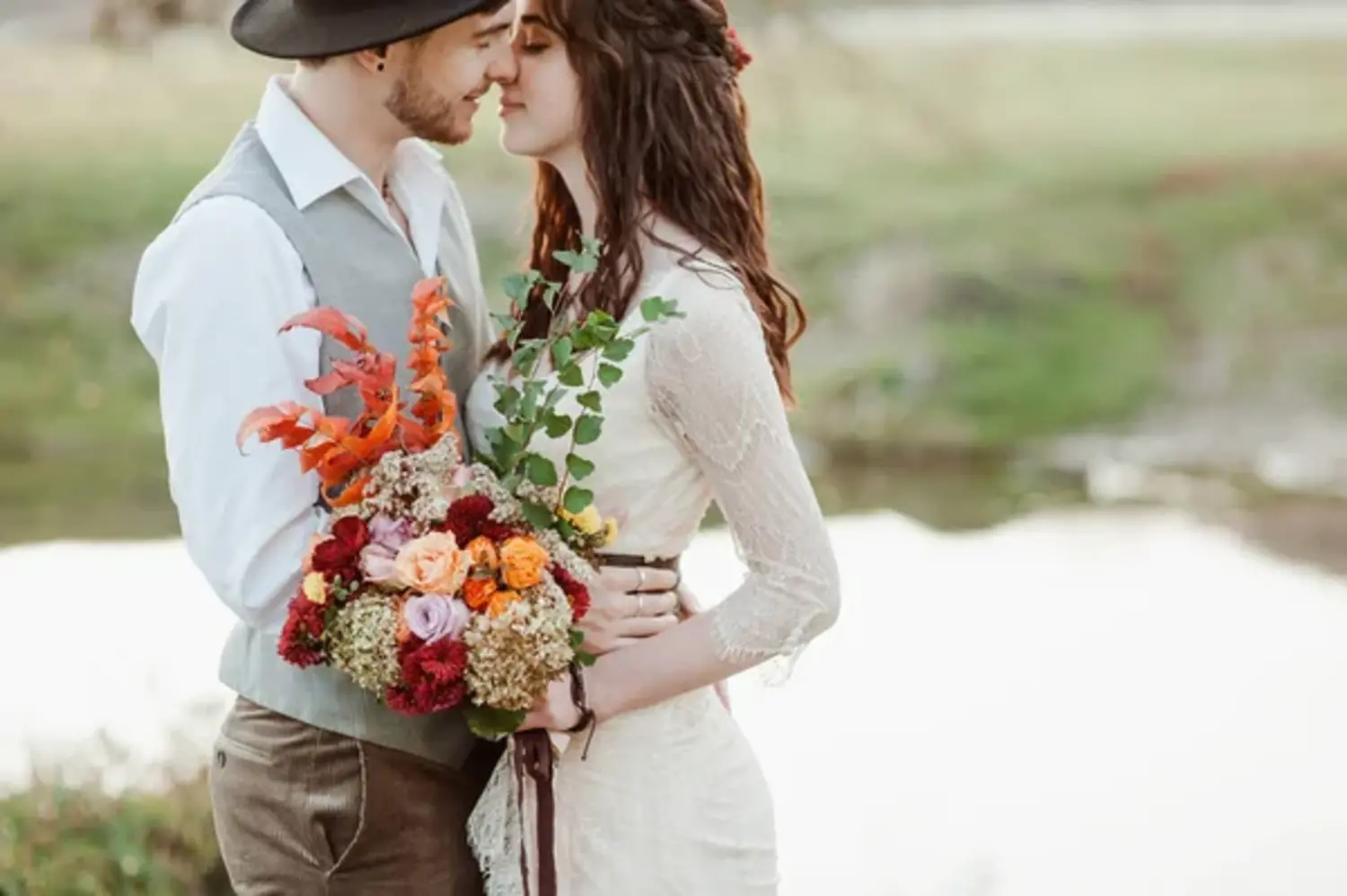 What Is a Rustic Wedding? (Full Explanation with Examples)
A rustic wedding is a captivating celebration that embraces the beauty of nature and the charm of the countryside. It is a wedding theme that harks back to a simpler time, evoking a sense of nostalgia and warmth.
At its core, a rustic wedding incorporates organic elements such as weathered wood, burlap, twine, and wildflowers to create an atmosphere of rustic elegance.
The venues for rustic weddings often include picturesque barns, vineyards, meadows, or gardens that provide the perfect canvas for couples to paint their love story.
Rustic weddings are known for their intimate and heartfelt ambiance, where guests feel welcomed into a cozy and inviting space that reflects the couple's personality and style.
For example, imagine a rustic wedding set in a charming barn adorned with twinkling string lights and draped with soft, flowing fabrics. Wooden tables are adorned with vintage-inspired centerpieces of mason jars filled with freshly picked wildflowers.
The bride wears a bohemian-inspired lace gown, and the groom sports a stylish tweed suit with suspenders.
As the ceremony commences under a rustic archway adorned with lush greenery, guests are seated on wooden benches, immersing themselves in the rustic romance that surrounds them.
The reception features a delectable feast of farm-to-table cuisine, and guests dance the night away under the stars, enveloped in the enchantment of a rustic wedding celebration they'll cherish forever.
What Is a Rustic Chic Wedding?
A rustic chic wedding is an exquisite fusion of rustic charm and contemporary elegance. It takes the essence of a rustic wedding and elevates it with sophisticated touches and modern flair.
This enchanting theme strikes a delicate balance between vintage elements and chic aesthetics, creating a wedding celebration that is both charmingly rustic and effortlessly stylish.
From the venue to the décor and attire, every aspect of a rustic chic wedding exudes a refined yet inviting ambiance that captivates the hearts of couples and guests alike.
The reception is a vision of rustic chic perfection, with long farm tables adorned with lush greenery, delicate candles, and elegant tableware that adds a touch of refinement to the rustic setting.
Rustic chic weddings are known for their attention to detail and the seamless integration of contrasting elements.
Vintage-inspired accents, such as antique chandeliers or repurposed wooden barrels, harmoniously coexist with contemporary touches like acrylic signage and modern calligraphy.
The overall atmosphere is one of effortless beauty and understated luxury, creating an unforgettable experience that bridges the gap between the simplicity of the countryside and the sophistication of chic aesthetics.
A rustic chic wedding promises to be a celebration that not only captures the hearts of the couple but leaves an indelible impression on every guest fortunate enough to be part of this captivating affair.
Types of Rustic Weddings (List and Explain)
Rustic weddings have evolved over the years, giving rise to a variety of captivating styles that embrace the charm of the countryside and the allure of nature.
Each type of rustic wedding offers a unique experience, allowing couples to express their individuality and create a celebration that resonates with their personalities.
Let's explore some of the most enchanting types of rustic weddings:
Barn Wedding
The quintessential rustic wedding is set in a charming barn adorned with exposed wooden beams and vintage details. Barn weddings exude a sense of history and nostalgia, creating an intimate and cozy atmosphere for guests to revel in the rustic romance.
Farmhouse Wedding
A celebration is held at a picturesque farmhouse or on a working farm, where the rustic setting is complemented by the beauty of the surrounding landscape. Farmhouse weddings often feature open fields, grazing livestock, and an authentic country vibe.
Vineyard Wedding
Vineyard Wedding held in a breathtaking vineyard, this type of rustic wedding is infused with the allure of lush grapevines and rolling hills. The natural beauty of the vineyard provides an elegant backdrop for a rustic celebration filled with sophistication and charm.
Garden Wedding
A rustic garden wedding is an enchanting affair held amidst blooming flowers, fragrant herbs, and lush greenery. The serene ambiance of a garden setting adds a touch of romance and intimacy to the rustic experience.
Mountain or Woodland
Wedding Ideal for nature lovers, mountain or woodland weddings immerses guests in the beauty of towering trees, babbling brooks, and scenic vistas. These weddings offer a rustic adventure amidst the wonders of the great outdoors.
Lakeside Wedding
A lakeside wedding combines rustic charm with the tranquility of the water. Guests can enjoy the serenity of the lake while savoring the natural beauty of the surrounding landscape.
Rustic Beach Wedding
A rustic beach wedding merges the relaxed vibe of a beach destination with the timeless appeal of rustic elements. Seashells, driftwood, and flowing fabrics complement the coastal ambiance, creating a dreamy and laid-back atmosphere.
Rustic Bohemian Wedding
A fusion of rustic and bohemian styles, this wedding theme embraces the carefree spirit of boho-chic aesthetics while staying true to the organic charm of the countryside. Think dreamcatchers, macramé décor, and a natural color palette.
Rustic Vintage Wedding
Vintage-inspired elements blend harmoniously with rustic details, creating a wedding that feels like a journey back in time. Antique furnishings, classic carriages, and delicate lace details add a touch of old-world charm to the celebration.
Rustic Industrial Wedding
A contemporary twist on rustic weddings, the rustic industrial style combines the rough edges of urban industrial venues with rustic elements like reclaimed wood, metal accents, and exposed brick walls.
Rustic Romantic Wedding
A rustic romantic wedding is all about creating an atmosphere of timeless love and tenderness. Soft, pastel colors, delicate florals, and candlelit settings set the stage for an intimate and heartfelt celebration.
Rustic Boho-Chic Wedding
This wedding style merges the bohemian spirit with chic sophistication. Eclectic décor, flower crowns, and flowing dresses create a free-spirited ambiance while maintaining an air of elegance.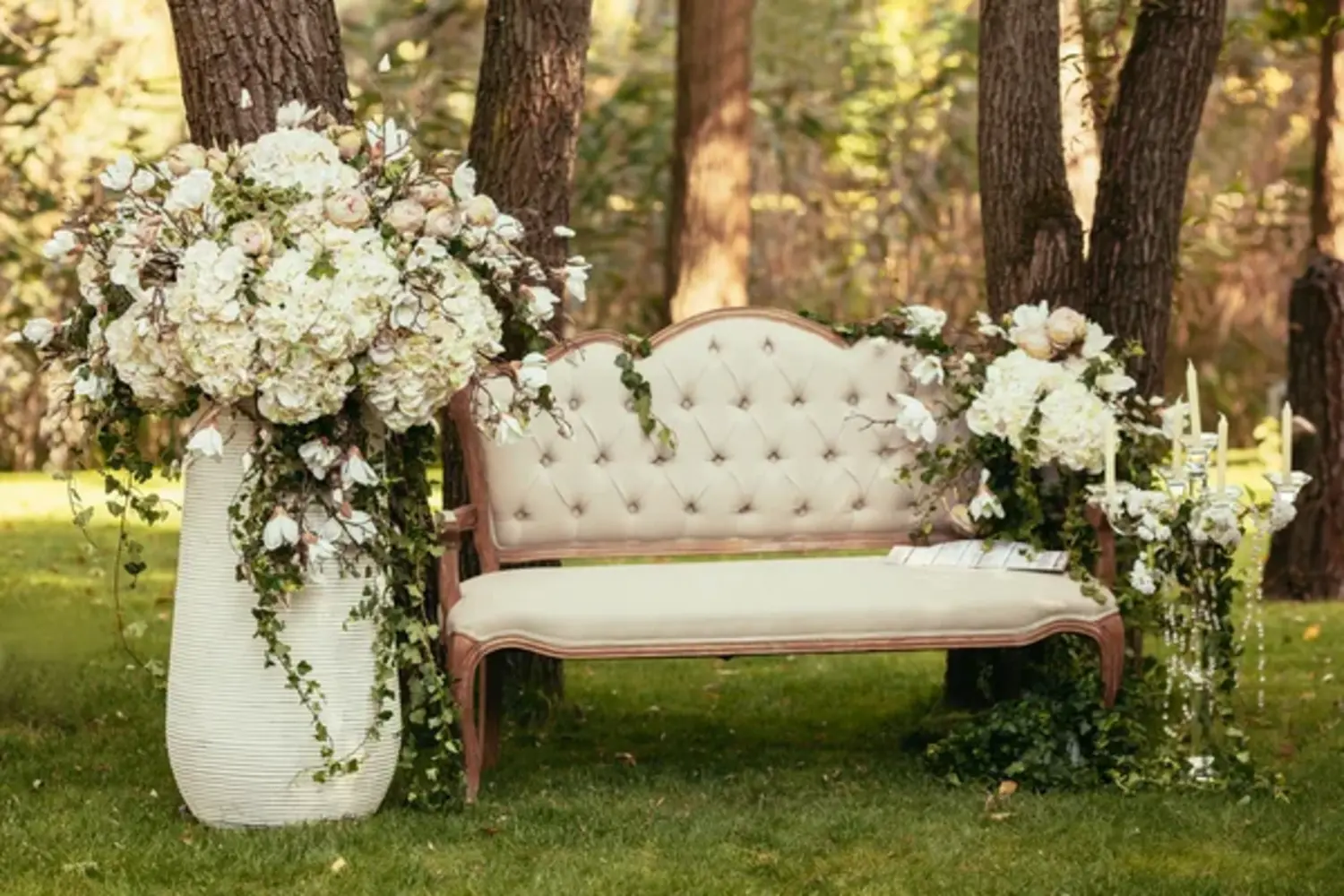 Rustic Wedding Theme Colors
When it comes to rustic weddings, the color palette plays a crucial role in creating the desired ambiance—capturing the essence of nature's beauty and evoking a sense of warmth and intimacy.
Let's explore some of the most popular and captivating colors often seen in rustic weddings:
Earthy Neutrals
Neutrals form the foundation of rustic wedding colors. Shades of beige, ivory, and taupe mimic the hues of natural elements like sand, stones, and wood.
These earthy neutrals provide a soft and calming backdrop, allowing other accent colors to shine and harmonize with the rustic charm of the venue.
Muted Greens
Embracing the beauty of nature, muted greens—such as sage, eucalyptus, and olive—bring a sense of freshness and tranquility to a rustic wedding. These hues mimic the lush foliage of the countryside and are often used in floral arrangements, garlands, and décor elements.
Warm Browns
Rustic weddings often feature warm brown tones that reflect the richness of the earth. Chocolate, chestnut, and cinnamon add depth and a cozy feel to the color palette, reminiscent of wooden elements commonly found in rustic venues.
Dusty Rose
For a touch of romance and femininity, dusty rose is a popular choice in rustic weddings. This delicate and subtle shade of pink complements the organic hues and adds a gentle pop of color to bouquets, bridesmaid dresses, and table settings.
Deep Burgundy
For a more dramatic and luxurious feel, deep burgundy brings a sense of sophistication to a rustic wedding. This rich color creates a stunning contrast against the natural backdrop and pairs beautifully with gold accents for a rustic chic vibe.
Sunflower Yellow
Bright and cheerful, sunflower yellow captures the essence of sunlit fields and adds a joyful burst of color to rustic weddings. It's an excellent choice for summer and fall weddings, infusing the celebration with a sunny disposition.
Rustic Orange
Reminiscent of autumn foliage and harvest celebrations, rustic orange hues like terracotta and burnt sienna add warmth and a touch of rustic vibrancy to the color palette.
Sky Blue
For rustic weddings set against the backdrop of a clear blue sky or a lakeside vista, soft sky blue hues add a serene and airy ambiance to the celebration. This color pairs well with natural wood tones and white accents.
Lavender
A soothing and aromatic color, lavender brings a delicate charm to rustic weddings. It's perfect for a springtime celebration and can be incorporated into floral arrangements, table settings, and wedding stationery.
Creamy Whites
Pure and timeless, creamy white tones symbolize the purity and unity of love. White serves as an elegant complement to any rustic wedding color scheme and is often used in wedding dresses, linens, and floral arrangements.
What Is a Rustic Wedding Cake?
A rustic wedding cake is a delightful culinary masterpiece that embodies the charm and simplicity of the countryside. It is a delicious centerpiece that perfectly complements the rustic theme, adding a touch of sweetness and elegance to the wedding celebration.
What sets a rustic wedding cake apart is its natural and organic design, inspired by the beauty of nature and the rustic elements that define the theme. From the flavors to the decorations, every aspect of a rustic wedding cake is carefully crafted to evoke a sense of warmth and nostalgia.
The design of a rustic wedding cake often features textured and imperfect finishes, mirroring the rustic appeal of weathered wood or rough-hewn stone.
Naked cakes, with layers of delectable cake peeking through between thin layers of frosting, are a popular choice for rustic weddings.
The exposed layers create a rustic and homespun look that is both charming and inviting. Another option is a buttercream-frosted cake adorned with delicate swirls, resembling the softness of freshly whipped cream, adding a touch of rustic elegance to the design.
As for decorations, rustic wedding cakes embrace natural elements such as fresh flowers, greenery, and seasonal fruits.
Wildflowers, in particular, are a favorite choice, as they exude a carefree and organic vibe. Blossoms like lavender, roses, or sunflowers bring a burst of color and fragrance to the cake, enhancing its rustic charm.
Foliage like eucalyptus, herbs, or vines adds a touch of greenery that complements the countryside ambiance.
To further personalize the cake, rustic cake toppers may include wooden figures, initials carved into wood slices, or small animal figurines to symbolize the couple's love for nature.
Burlap ribbons, twine, or lace are often used as cake trimmings, adding a rustic touch that ties the design together.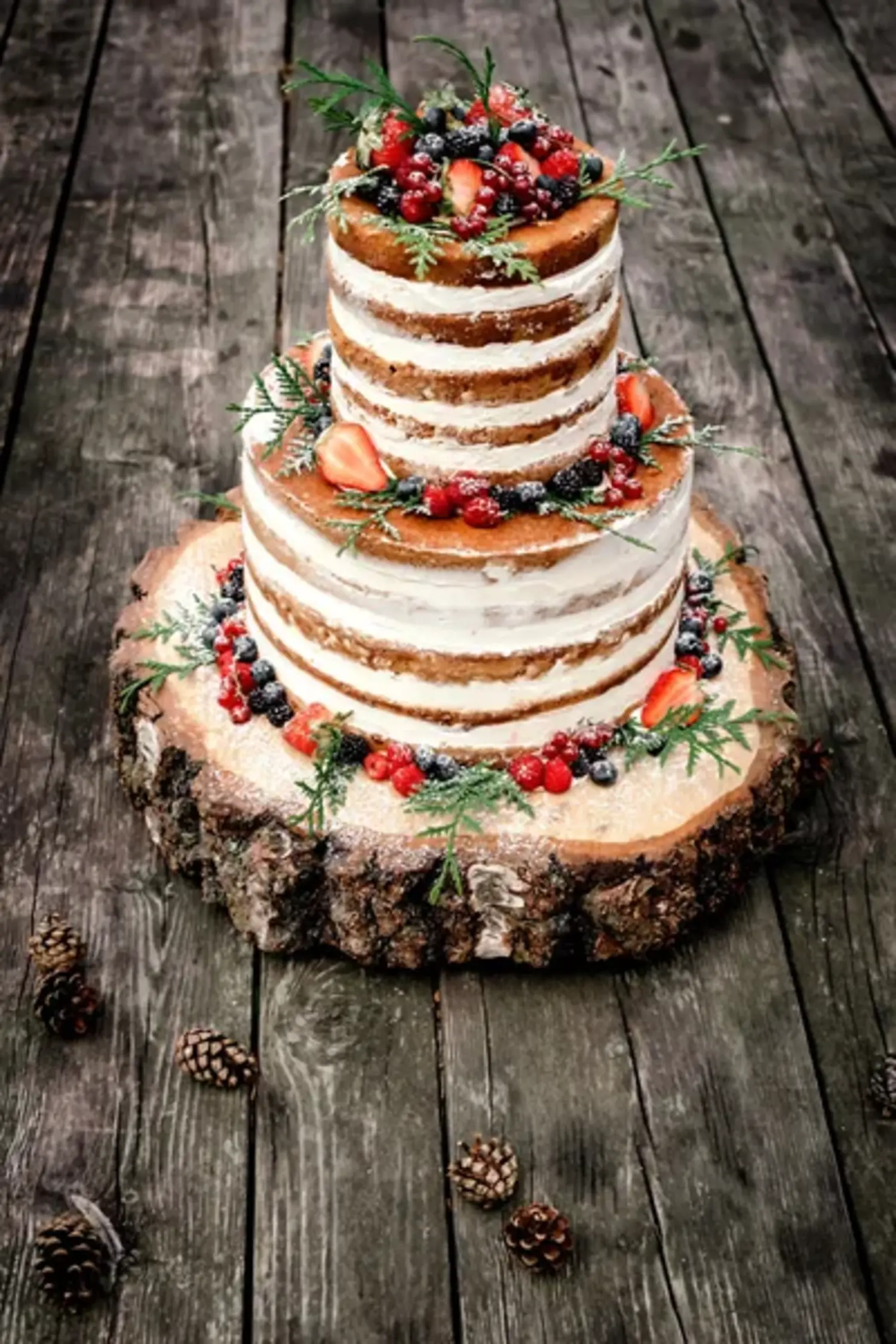 What Are Rustic Wedding Decorations?
Rustic wedding decorations are the heart and soul of a charming countryside celebration, infusing the venue with warmth, authenticity, and natural beauty.
These decorations embrace the simplicity and elegance of rustic elements, creating an enchanting atmosphere that transports guests to a tranquil and idyllic world.
Ceremony Décor
The rustic charm begins with the ceremony space, where nature often takes center stage. Wooden arbors or arches adorned with greenery and wildflowers form a picturesque backdrop for exchanging vows.
Wooden benches or vintage chairs add a touch of rustic elegance for guests to sit and witness the couple's heartfelt promises.
Burlap or lace aisle runners, mason jar aisle markers filled with blooms, or hanging floral installations suspended from tree branches all contribute to the rustic ambiance.
Centerpieces
Rustic wedding centerpieces are works of art that blend natural beauty with artistic flair. Wooden slices or vintage crates serve as the base for arrangements of wildflowers, baby's breath, and other country blooms.
Mason jars, repurposed bottles, or tin cans filled with candles or fresh blooms create an intimate and enchanting setting. For a touch of whimsy, couples may opt for arrangements featuring feathers, twigs, or even antlers.
Table Settings
Rustic table settings showcase the perfect harmony of rustic charm and elegant details. Linen or burlap table runners add texture, while wooden chargers and mismatched vintage china add character.
Napkins tied with twine or lace ribbon and personalized wooden name cards add a thoughtful touch. Rustic-themed menus or hand-lettered chalkboard signs provide a touch of nostalgia while guiding guests through the culinary delights of the evening.
Lighting
Lighting is a key element in creating a rustic ambiance. Twinkling fairy lights or string lights hung overhead or intertwined with greenery add a magical glow.
Lanterns with flickering candles or LED candles create a cozy and romantic atmosphere. Rustic chandeliers made of reclaimed materials can also add a touch of elegance to the setting.
Cake Table
The rustic cake table showcases the wedding cake as a true work of art. A wooden table or barrel is often chosen as the base, adorned with a lace or burlap tablecloth.
The cake itself may be naked, revealing layers of delicious flavors, or a buttercream-frosted confection adorned with fresh flowers and greenery. Wooden cake toppers or rustic-themed figurines add a personal touch.
Signage
Rustic wedding signage adds a touch of nostalgia and direction to the celebration. Wooden signs with hand-painted calligraphy guide guests to the ceremony, reception, and other points of interest.
Chalkboard signs with loving messages or quotes contribute to the rustic charm.
Signage may also include fun and interactive elements like a photo booth sign, a "Welcome to our love story" board, or a seating chart crafted on a vintage window frame.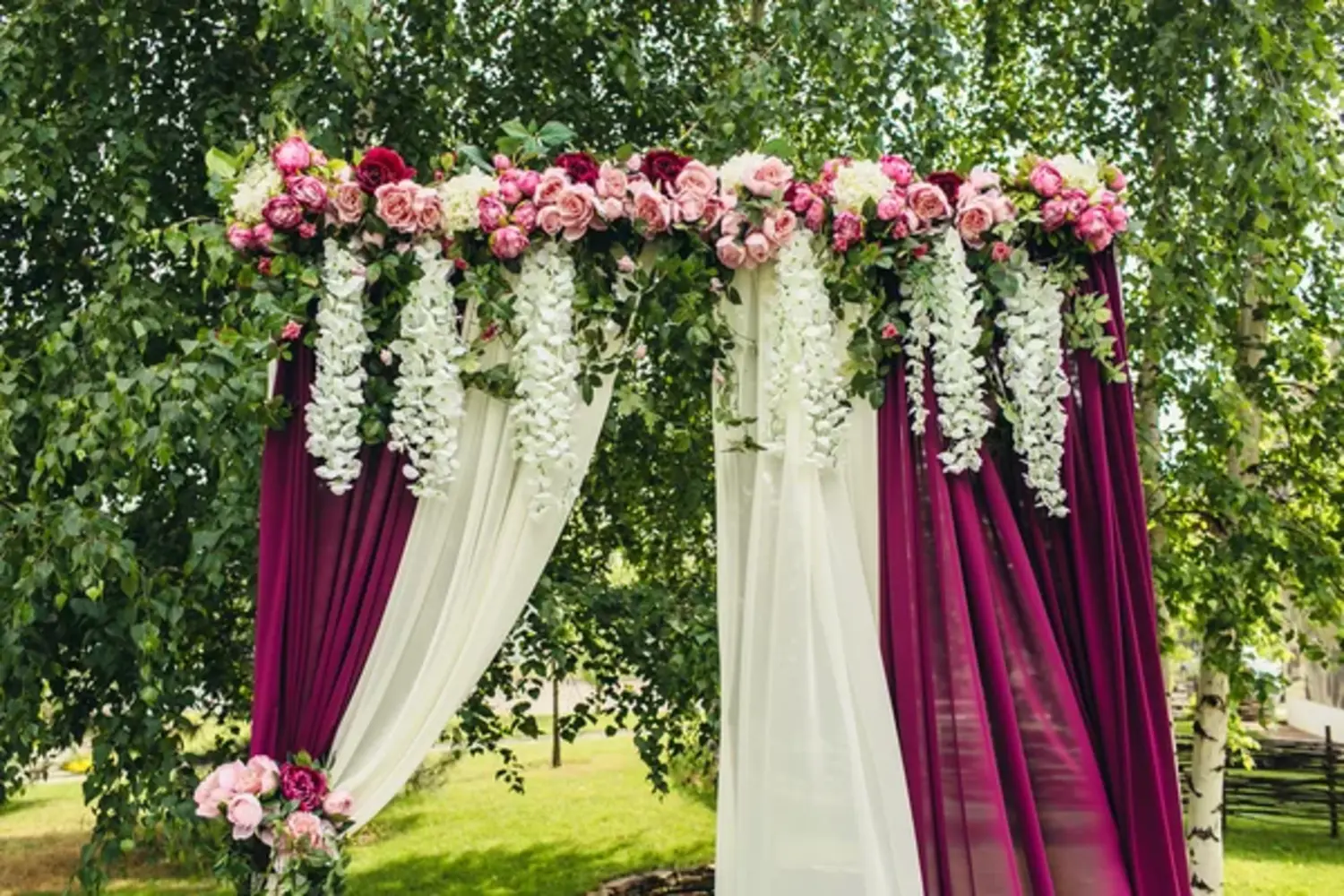 What Is a Rustic Wedding Dress?
Rustic wedding dresses are designed to complement the rustic theme while exuding a touch of bohemian and vintage influences. These dresses are celebrated for their organic and ethereal qualities, embracing the natural elements that define the rustic ambiance.
Fabrics and Silhouettes
Rustic wedding dresses often feature soft and flowing fabrics that mirror the gentle rustling of leaves in the breeze. Chiffon, tulle, and lace are popular choices, lending an air of whimsy and romance.
The silhouettes are often relaxed and effortless, favoring A-line, sheath, or fit-and-flare styles that allow the bride to move with ease throughout the celebration. High-low hemlines or tea-length dresses are also adored for their carefree and laid-back charm.
Lace and Embellishments
Rustic wedding dresses frequently showcase delicate lace, adding an exquisite touch of femininity and vintage allure. The lace may feature intricate floral patterns or bohemian-inspired designs, enhancing the dress's organic and romantic feel.
Subtle embellishments like pearls, beads, or sequins may be sparingly used to add a touch of shimmer and elegance.
Necklines and Backs
Sweetheart necklines, V-necklines, and off-the-shoulder styles are popular choices for rustic wedding dresses, creating a sense of allure and grace.
Illusion necklines or delicate straps may also be featured, adding a touch of sophistication while maintaining a natural and free-spirited aesthetic.
For the back of the dress, low or open backs, adorned with lace or intricate details, often add a captivating element that accentuates the bride's beauty from all angles.
Bohemian Details
Rustic wedding dresses may incorporate bohemian-inspired details that embrace the carefree spirit of boho-chic aesthetics.
Draped sleeves, fringe accents, or a flower crown delicately woven into the bride's hair are just a few examples of how bohemian elements can be beautifully infused into the dress.
Color Palette
While traditional white or ivory is a classic choice for rustic wedding dresses, some brides opt for soft and subtle color palettes. Shades like blush, champagne, or dusty rose to add a touch of romance and uniqueness to the dress while remaining true to the organic and rustic theme.
Comfort And Versatility
One of the standout features of a rustic wedding dress is its emphasis on comfort and versatility. Brides can move freely and comfortably throughout the celebration, making it perfect for outdoor ceremonies, barn weddings, or any venue that embraces the rustic charm of nature.
What Do You Wear to a Rustic Wedding?
Attending a rustic wedding calls for a perfect balance between casual elegance and a touch of rustic charm.
The dress code for a rustic wedding is usually less formal than traditional black-tie affairs, allowing guests to embrace a laid-back yet sophisticated style that harmonizes with the rustic ambiance.
For Women
Rustic Chic Dresses: Opt for dresses in soft and flowy fabrics like chiffon, tulle, or lace. Pastel colors, earthy neutrals, or floral prints add a touch of whimsy and romance to your look. A maxi dress with bohemian-inspired details, such as flutter sleeves or an off-the-shoulder neckline, can be a beautiful choice.
Bohemian Accessories: Embrace boho-chic accessories like a flower crown, a beaded clutch, or delicate layered necklaces. These elements add a touch of personality to your outfit and reflect the natural and free-spirited vibe of the rustic theme.
Comfortable Footwear: Rustic weddings often take place outdoors or in venues with uneven surfaces. Opt for comfortable footwear such as block heels, wedges, or stylish sandals that allow you to navigate the terrain with ease.
Light Layers: Depending on the season and location, consider bringing a light shawl, wrap, or denim jacket to stay comfortable during the day and into the evening.
For Men
Casual Tailored Attire: For a rustic wedding, consider wearing tailored attire in a more relaxed style. A well-fitted dress shirt paired with dress pants or chinos creates a polished yet casual look.
Vest or Cardigan: Add a rustic touch to your outfit with a vest or cardigan in earthy tones like tan, olive, or burgundy. This not only adds style but also keeps you warm during cooler evenings.
Statement Accessories: A rustic wedding allows for a bit of personal flair. Consider adding a stylish bow tie, patterned pocket square, or leather belt to elevate your look.
Comfortable Shoes: Opt for dress shoes that are comfortable for walking and dancing. Loafers or leather boots are excellent choices that strike the perfect balance between elegance and casualness.
General Tips
Pay Attention to the Venue and Weather: Take note of the wedding venue and the expected weather conditions when choosing your outfit. This will help you dress appropriately and comfortably for the occasion.
Be Mindful of Dress Code: While rustic weddings are often more relaxed, it's essential to respect any specific dress code mentioned on the wedding invitation.
Dress for Versatility: Consider choosing an outfit that can transition seamlessly from the ceremony to the reception. This way, you'll be ready to enjoy every moment of the celebration.
What To Eat At A Rustic Wedding?
At a rustic wedding, the culinary experience is a delightful celebration of farm-to-table fare and comforting dishes that reflect the charm and simplicity of the countryside.
Here's a glimpse of what you can expect to eat at a rustic wedding:
Appetizers
Farm Fresh Crudité: A colorful array of fresh vegetables like carrots, cucumbers, bell peppers, and cherry tomatoes served with creamy dips and herb-infused olive oil.
Cheese and Charcuterie: An assortment of artisanal cheeses, cured meats, olives, and bread that evoke a sense of rustic elegance and encourage guests to indulge in delightful combinations.
Caprese Skewers: Skewers of cherry tomatoes, mozzarella, and basil drizzled with balsamic glaze, creating a burst of flavor that captures the essence of Italian-inspired rustic cuisine.
Mini Quiches: Bite-sized quiches filled with savory ingredients like spinach and feta or caramelized onions and goat cheese, showcasing the heartiness of rustic comfort food.
Main Course
Rustic Roasted Chicken: Tender and succulent roasted chicken infused with herbs and served with a side of seasonal vegetables and roasted potatoes.
Herb-Crusted Beef Tenderloin: A flavorful and juicy beef tenderloin coated in a fragrant herb crust, served with a red wine reduction sauce, and accompanied by grilled asparagus or buttery mashed potatoes.
Grilled Salmon with Lemon Dill Sauce: A light and refreshing option featuring grilled salmon topped with a zesty lemon dill sauce, served with a quinoa salad or wild rice pilaf.
Vegetarian Ratatouille: A colorful medley of roasted vegetables, such as eggplant, zucchini, bell peppers, and tomatoes, infused with aromatic herbs and olive oil.
Sides
Garlic Herb Butter Rolls: Warm and fluffy rolls infused with garlic and herbs, offering a comforting and aromatic addition to the main course.
Seasonal Salad: A fresh salad featuring a mix of greens, seasonal fruits, and nuts, dressed with a tangy vinaigrette or honey mustard dressing.
Buttery Green Beans: Crisp green beans sautéed in garlic butter, providing a simple yet delicious side that complements any main course.
Desserts
Rustic Fruit Pie: A delectable fruit pie filled with seasonal fruits like apples, berries, or peaches, topped with a golden, flaky crust.
Cupcakes with Buttercream Frosting: Indulgent cupcakes adorned with swirls of buttercream frosting in various flavors like vanilla, chocolate, or raspberry.
S'mores Bar: An interactive dessert station where guests can create their s'mores with graham crackers, marshmallows, and rich chocolate—a nostalgic and fun treat.
Rustic Wedding Cake: The centerpiece dessert, a rustic wedding cake adorned with fresh flowers or organic decorations, representing the sweet love shared between the couple.
Beverages
Signature Cocktails: Crafted cocktails featuring seasonal fruits and herbs that reflect the rustic theme, served alongside classic choices like wine, beer, and non-alcoholic options.
Lemonade or Iced Tea Stand: Refreshing and homemade beverages served in mason jars, offering a touch of rustic charm and quenching the guests' thirst.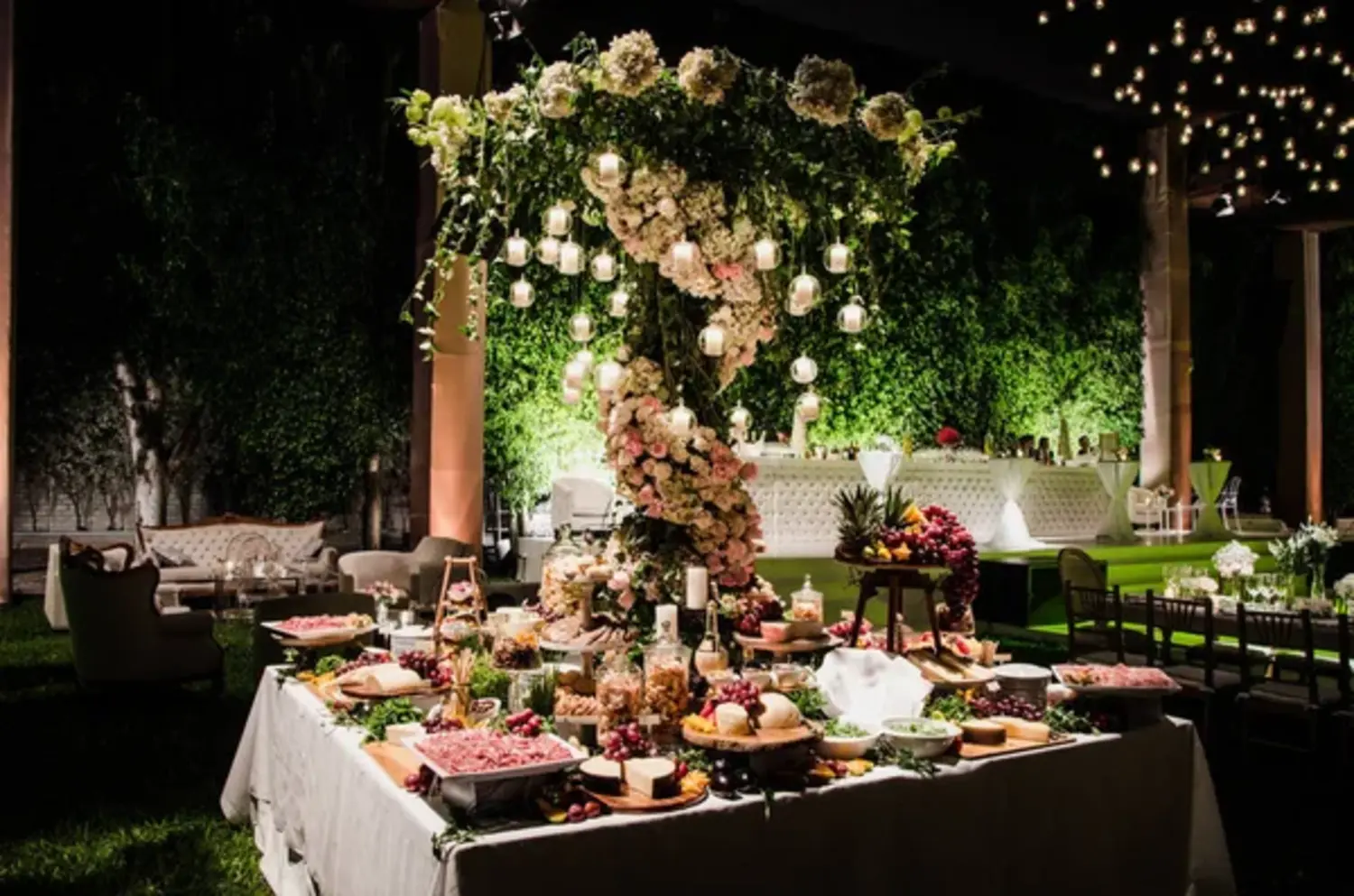 What Music Is Played At A Rustic Wedding?
Music at a rustic wedding sets the tone for a joyous celebration that embraces the warmth and intimacy of the countryside.
The playlist is thoughtfully curated to reflect the rustic charm and create an enchanting ambiance that resonates with the natural beauty of the venue.
Ceremony Music
Acoustic Melodies: The ceremony often begins with soft and soulful acoustic melodies. Live performances of acoustic guitar, violin, or folk-inspired vocalists create an intimate and heartfelt atmosphere as guests gather for the union of the couple.
Folk or Indie Love Songs: Rustic weddings often feature folk or indie love songs that speak to the heart. These songs express the emotions of love, gratitude, and commitment shared by the couple as they exchange vows.
Classical Tunes: For a touch of elegance and timelessness, classical pieces like Pachelbel's Canon in D or Mendelssohn's Wedding March may be incorporated into the ceremony.
Reception Music
Rustic Folk and Country Tunes: As the reception kicks off, the playlist may transition to rustic folk and country tunes that celebrate love and life in the countryside. Songs from artists like Mumford & Sons, Zac Brown Band, or The Lumineers add a festive and lively touch to the celebration.
Upbeat Bluegrass or Americana: Upbeat bluegrass or Americana songs infuse the reception with a sense of excitement and dancing. Guests can enjoy lively tunes that inspire them to hit the dance floor and celebrate the joyous occasion.
Classic Rock and Pop Hits: To appeal to a broader audience, classic rock and pop hits that are beloved by all generations may be mixed into the playlist. These songs add a fun and familiar element to the celebration, encouraging guests of all ages to join in the festivities.
First Dance and Special Moments: The first dance is a special moment for the couple, and the song chosen for this dance often holds deep meaning for them. Whether it's a classic ballad, a heartfelt country song, or a folk love song, the first dance sets the stage for the romantic evening ahead.
Dancing Under the Stars: As the evening progresses, dancing under the stars becomes a magical experience. Soft string lights and twinkling fairy lights create an enchanting backdrop as guests dance to their favorite tunes, immersing themselves in the rustic romance of the night.
Live Performances: Rustic weddings often feature live performances from local musicians or bands, adding a personal and authentic touch to the music. Acoustic duos or folk bands can provide live entertainment, creating a sense of intimacy and connection between the performers and the guests.
Final Thoughts
In conclusion, a rustic wedding is a captivating celebration that embodies the timeless charm and natural beauty of the countryside.
It is a wedding theme that invites couples and guests to step away from the hustle and bustle of everyday life and immerse themselves in a world of simplicity, warmth, and intimacy.
Rustic weddings embrace organic elements, earthy tones, and a touch of vintage or bohemian flair to create an enchanting atmosphere that feels both cozy and elegant.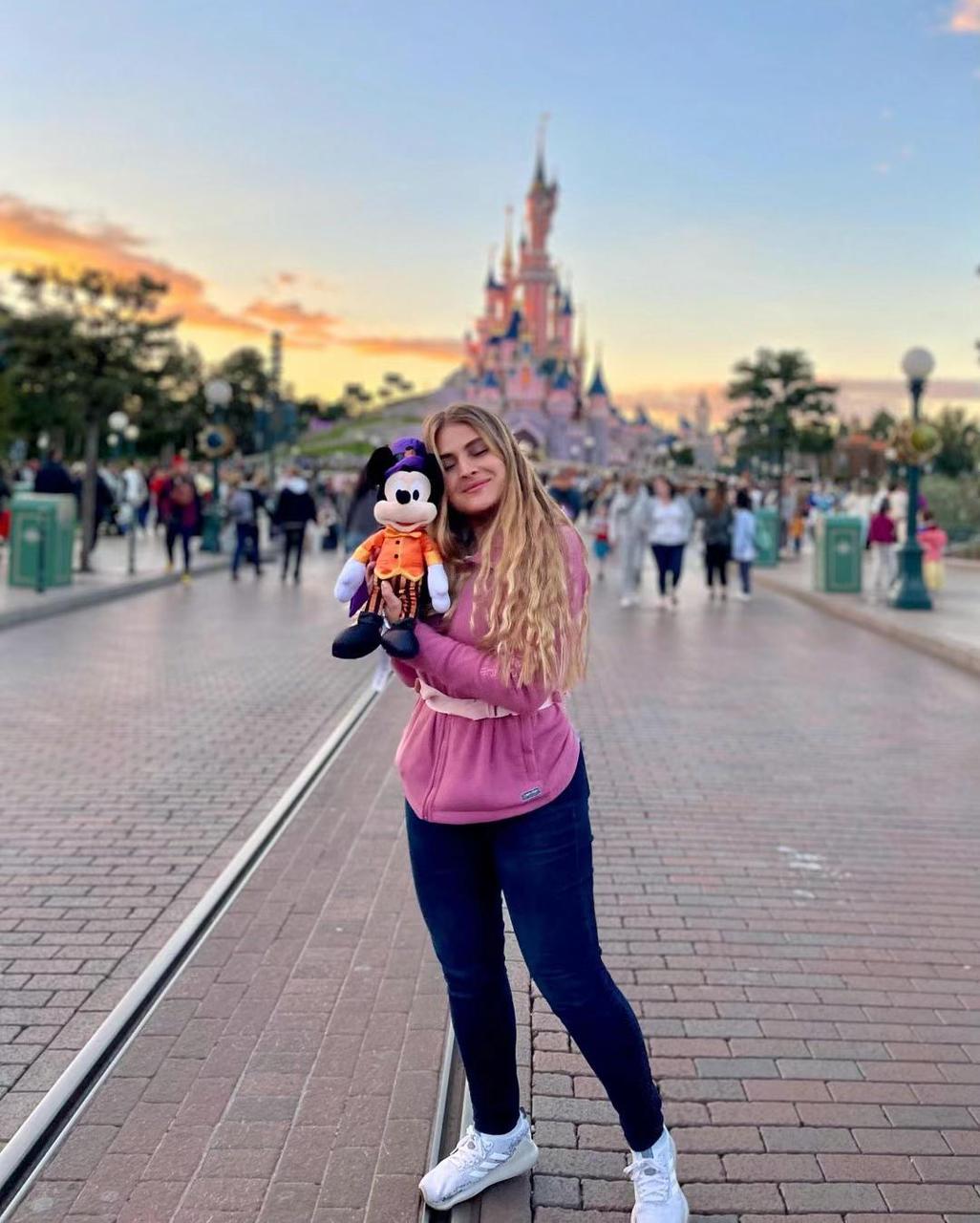 Hi, I'm Jasmine Sophie and welcome to my website!
As a marriage counsellor, I'm passionate about helping people figure out solutions to their relationship issues. While based in Austin and with most of my clients coming from the local area, I believed that there were more people out there who could benefit from my services.
That's why I decided to set up this webiste; so that I can help even more people break through any difficulties they may be facing in their relationships. In my free time, I enjoy activities like golfing and fishing, as well as just spending time with family. It's just another way for me to explore my creativity and use it towards helping others.
Experience:
With a wealth of experience in the realm of love and relationships, Jasmine has been transforming lives for over a decade. Her remarkable journey as a licensed psychologist and marriage and couples therapist has allowed her to witness the transformative power of love firsthand. Through her extensive work with diverse couples, she has unraveled the secrets to fostering healthy and thriving partnerships.
Expertise:
Jasmine's expertise lies in untangling the complex web of relationship dynamics. Whether it's reigniting the spark in long-term marriages, healing wounds from past relationships, or guiding individuals in their pursuit of true love, Jasmine possesses an unwavering commitment to helping people create fulfilling and joyful connections. Her profound insights and practical strategies have earned her accolades as a trusted authority in the love and relationship sphere.
Education:
Jasmine Sophie's academic achievements serve as a solid foundation for her exceptional knowledge in the field. She holds a master's degree in Psychology, specializing in marriage and family therapy. Combining her academic prowess with her empathetic nature, Jasmine seamlessly integrates evidence-based techniques and profound wisdom to empower her readers to navigate the complexities of modern relationships with grace and authenticity.
Join Jasmine Sophie on joypassiondesire.com, and embark on a transformative journey to embrace love, ignite passion, and cultivate relationships that transcend ordinary boundaries. Through her illuminating articles and expert guidance, she will empower you to create a love story that is worthy of celebration and admiration. Get ready to embark on an extraordinary adventure of love and self-discovery with Jasmine Sophie as your trusted guide.